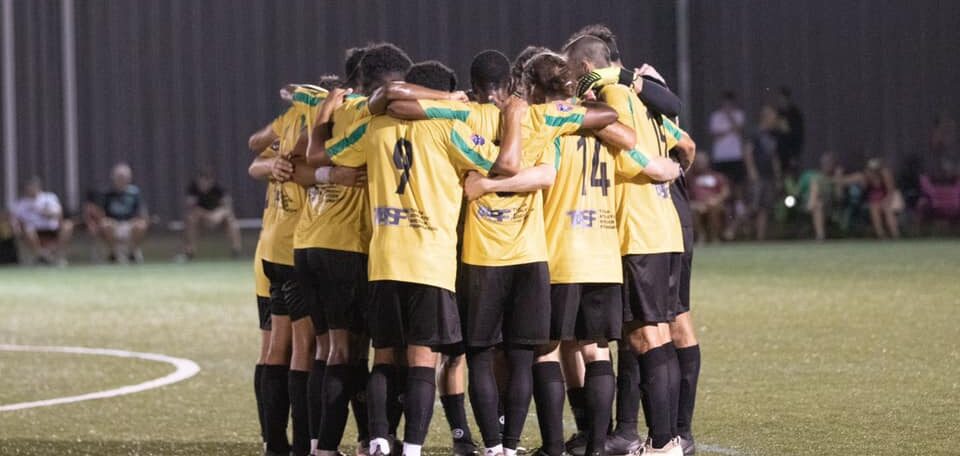 Tulsa Athletic at Reign FK
Friday, May 6 at 7:30 p.m.
Custer Stadium – Bartlesville, Oklahoma
Livestream: HERE
BARTLESVILLE, Okla. – Tulsa Athletic opens the 2022 NPSL season at Reign FK on Friday (May 6) at 7:30 p.m. for a Heartand Conference match at Custer Stadium. A live video stream will be available for the road contest. 
Tulsa Athletic's 2022 season started with a 3-0 win against Azteca FC in the First Round of the US Open Cup on March 23. Aaron Ugbah, Joe Garcia and Ruben Torres tallied goals in the victory. In the second round of the US Open Cup, the green and yellow fell, 2-1, at FC Tulsa in the first-ever Tulsa Derby. 
The green and yellow return a strong core of players from the 2021 team that made a run to the NPSL Championship match. Garcia is back in the midfield after tallying a team-high 10 goals in 2021. Others back in the midfield include Vinicius Oliveira, Juan Felipe Arias and Santiago Riveros. Goalkeeper Bryson Reed is back for his fourth season. He has 12 career shutouts in 30 career starts. Returning on defense includes Bosqueiro, Joe Ruiz and Javo Reyes. Ugbah is back up top after being named Man of the Match in the first round US Open Cup match against Azteca FC. 
The 2021 Tulsa Athletic team captured their second straight Heartland Conference Champion, first-ever South Region Championship and advanced to the NPSL Championship Match. In Heartland Conference play, Tulsa Athletic is currently on a nine-match unbeaten streak. 
Reign FK enters its second season in the NPSL Heartland Conference. In the 2021 season, Reign FK went 2-5-3 overall. The club is coached by former Tulsa Athletic player Walter Hubbard, who scored the match-winning goal in the first-ever contest for Tulsa Athletic in the 2013 season. His diving header in the 86th minute gave the green and yellow a 3-2 victory. 
Tulsa Athletic is 2-0 all-time against Reign FK in NPSL action. Last season in Bartlesville, Joe Garcia registered two goals for the brace in a 2-0 victory. In the last meeting between the clubs, Tulsa won 3-0 at Veterans Park. Juan Arias, Jonathan Harris and Romulo Bosqueiro tallied first-half goals. 
Tulsa Athletic's home opener is scheduled for Sunday, May 15 at Athletic Community Field at Hicks Park at 2 p.m. Season tickets are still available for only $25.