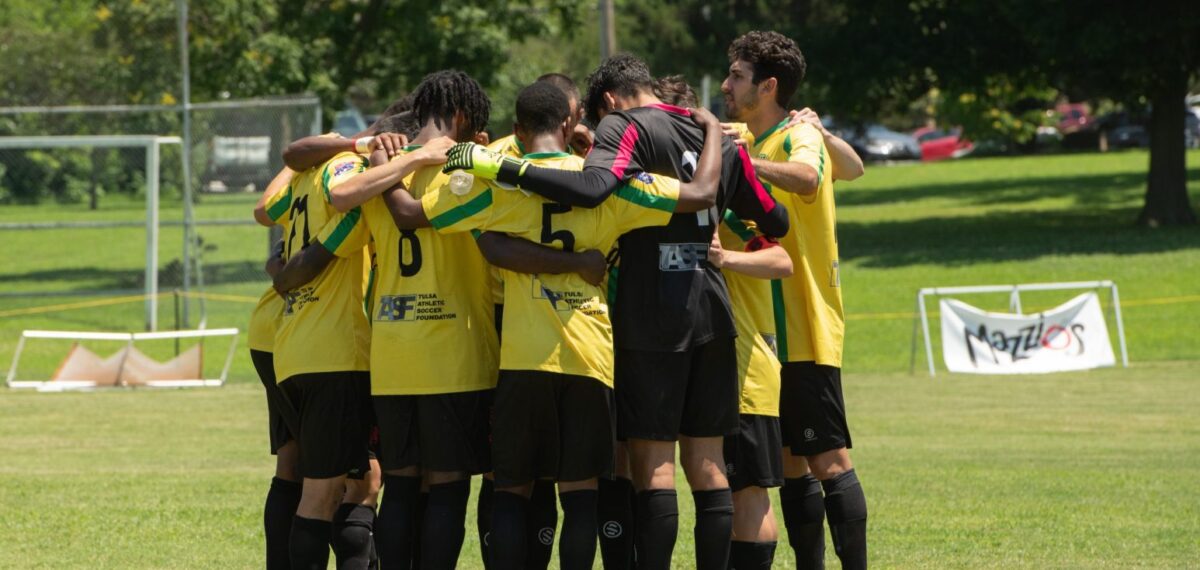 Tulsa Athletic vs Club Atletico Saint Louis
Sunday, May 15 at 2 p.m.
Athletic Community Field at Hicks Park | Tulsa
$10 General Admission
Livestream: HERE
TULSA – Tulsa Athletic plays host to Club Atletico Saint Louis in the first-ever home match at Athletic Community Field at Hicks Park on Sunday, May 15 at 2 p.m. Tickets are $10 for general admission. 
Tulsa Athletic opened their NPSL campaign with a 5-1 win at Reign FK on Friday, May 6 in Bartlesville, Oklahoma. Captain Joe Garcia finished with a brace and Romulo Bosqueiro, Gustavo Vargas and Juan Moreno each added goals. Bryson Reed earned the win in goal. 
Before the start of the NPSL season, Tulsa Athletic went 1-1 in the US Open Cup with a 3-0 victory against Azteca FC (Colo.) in the first round. Garcia, Aaron Ugbah and Ruben Torres tallied goals in the win. In the second round of the US Open Cup, the green and yellow fell, 2-1, at FC Tulsa in the first-ever Tulsa Derby. 
After three matches, Garcia leads the team with three goals across all competition. The midfielder posted a team-high 10 goals in the 2021 season, including two goals in the NPSL National Championship contest. Garcia is one of many returners from the 2021 national runner-up team. Other returners from the 2021 team include Reed, Bosqueiro, Ugbah, Vinicius Oliveria, Juan Felipe Arias, Santiago Riveros, Joe Ruiz and Javo Reyes. 
The 2021 Tulsa Athletic team captured their second straight Heartland Conference Champion, first-ever South Region Championship and advanced to the NPSL Championship Match. In Heartland Conference play, Tulsa Athletic is currently on a 10-match unbeaten streak. 
Club Atletico Saint Louis begins its 2022 NPSL the day before the match in Tulsa as Saint Louis travels to Oklahoma City to take on OKC 1889 FC on Saturday, May 14. The team last competed in the NPSL in 2019, going 2-6-2 in the Heartland Conference. Saint Louis went 5-4-1 in its inaugural season in the NPSL in 2018. 
Tulsa Athletic has won three straight matches in the all-time series between the two clubs in NPSL action. Saint Louis won the first-ever NPSL meeting, 4-2. Tulsa has won the last three contests, including going 2-0 in Tulsa. 
Hicks Park is located at 3443 S Mingo Ave., Tulsa, OK. The venue is Tulsa Athletic's fourth home venue after most recently playing at Veterans Park (now Dream Keeper Park) from 2018-21. Tulsa Athletic played one season at LaForture Stadium in 2017 and played its first four seasons as a club at Athletics Stadium (Drillers Stadium) from 2013-16. 
Tickets for Sunday's contest are only $10 and are available for purchase at the gate. A live stream is available as well.