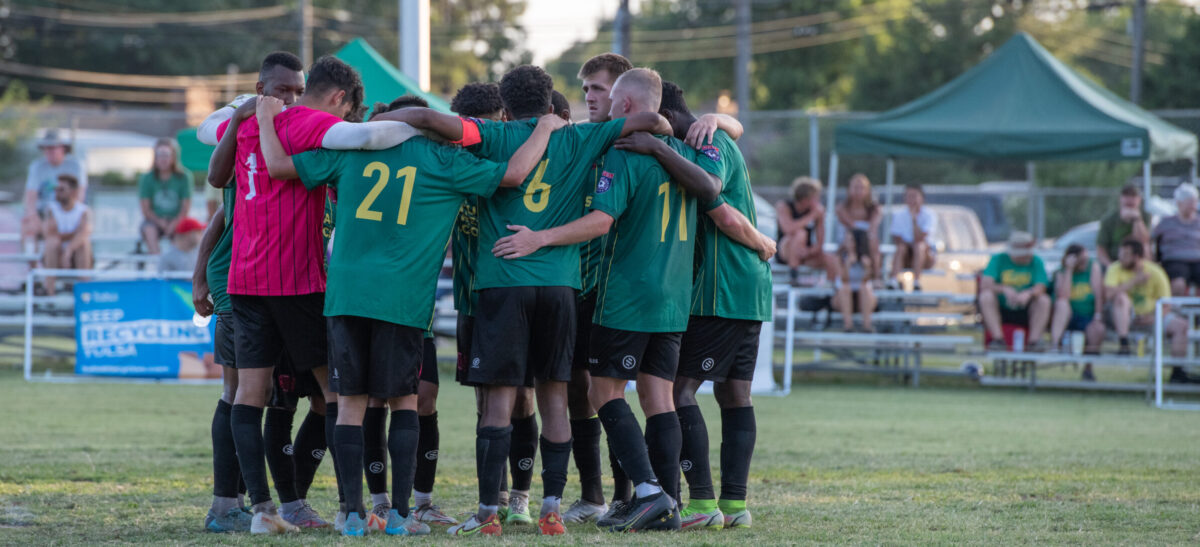 Tulsa Athletic vs Reign FK
Saturday, July 9 at 7 p.m.
Athletic Community Field at Hicks Park | Tulsa
$10 General Admission
Livestream: HERE
TULSA – Tulsa Athletic ends the 2022 NPSL regular season by hosting Reign FK on Saturday (July 9) at Athletic Community Field at Hicks Park at 7 p.m. The two teams meet for the second time this season and for the first time since the opening weekend of the season in May. 
Tulsa Athletic captured the Heartland Conference Shield for winning the regular season by defeating OKC 1889 FC on Wednesday by the score of 5-1. Damani Harris finished with a hat trick in the first half with three goals. Ruben Carrasco and Juan Moreno added goals in the dominating win. With the victory, Tulsa moved to 8-1-2 on the season to top the conference table with 26 points. OKC 1889 FC ranks second with a 7-2-2 record and 23 points.  
For the season, Abou Diallo paces the club with six goals. Moreno and Reed Berry have five goals each. Moreno has totaled four goals in the last three matches. Harris is at four goals for the season after the hat track on Wednesday. Bryson Reed and Brady Moody have combined for four shutouts in goal and a .82 goals against average. 
Reign FK comes into Saturday's match with a 1-8-2 record and five points. Saturday's match is Reign's first contest since June 28 when they fell 2-1 to OKC 1889 in Bartlesville. Grant King, who leads the team in goals with three on the season, scored in the loss to OKC. Jonathan Harris adds two goals this season for Reign. 
Tulsa Athletic and Reign played earlier this season in Bartlesville on May 6 with the green and yellow winning 5-1. Joe Garcia totalled two goals for a brace. Moreno, Romulo Bosqueiro and Gustavo Vargas each added a goal in the win. 
The second annual Estrella Jalisco Cup will be played before the match at 3:30 p.m. between Oklahoma City side Certified Lions FC and Tulsa side Super Nam-Hai. 
After Saturday's match, Tulsa Athletic hosts the Heartland Conference Semifinals on Wednesday, July 13 at Athletic Community Field at 7:30 p.m. A live video stream will be available. 
Hicks Park is located at 3443 S Mingo Ave., Tulsa, OK. 
Tickets for Sunday's contest are only $10 and are available for purchase at the gate. A live stream is available HERE