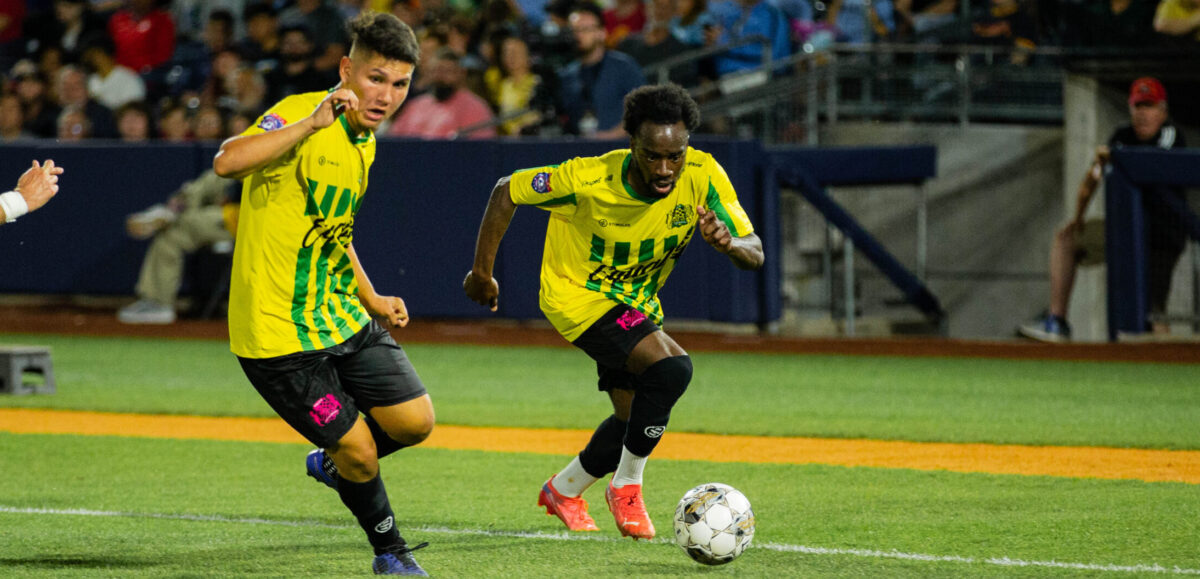 TULSA – Tulsa Athletic fell, 2-1, to FC Tulsa in the first-ever Tulsa Derby on Tuesday night (April 5) at ONEOK Field in the second round of the Lamar Hunt US Open Cup. 
FC Tulsa tallied two goals in the first 19 minutes of the match, but Tulsa Athletic scored in the 77th minute on a goal from Billy Nzojybwami for the 2-1 final score in front of a crowd of 2,388 fans with a majority of supporters in green. 
Brian Brown put the home side up 1-0 in the fifth minute of action. FCT doubled their edge to 2-0 in the 19th minute on a goal from Ronald Gomez on a header. 
Nzojybwami pulled Tulsa Athletic to within one in the second half. Joe Garcia played a ball down the right wing to Nzojybwami who cut back from his right foot to his left and fired a shot to the upper left corner of the goal for the 2-1 score in the 77th minute. 
In the second half the match opened up for Tulsa Athletic and the green and yellow had some chances. Chris Taylor made a dangerous run from his center back position, but his shot was high of the goal. 
Tulsa Athletic finished with seven shots in the match and one shot on goal. 
Bryson Reed made six saves for the green and yellow, including an impressive stop in the 87th minute, in 90 minutes in goal. 
Tulsa Athletic's 2022 NPSL season starts on May 6 at Reign FK in Bartlesville. The home opener is set for May 15 at 2 p.m. at Athletic Community Field at Hicks Park. Season tickets are available for a special rate of $25. Buy your tickets today HERE.