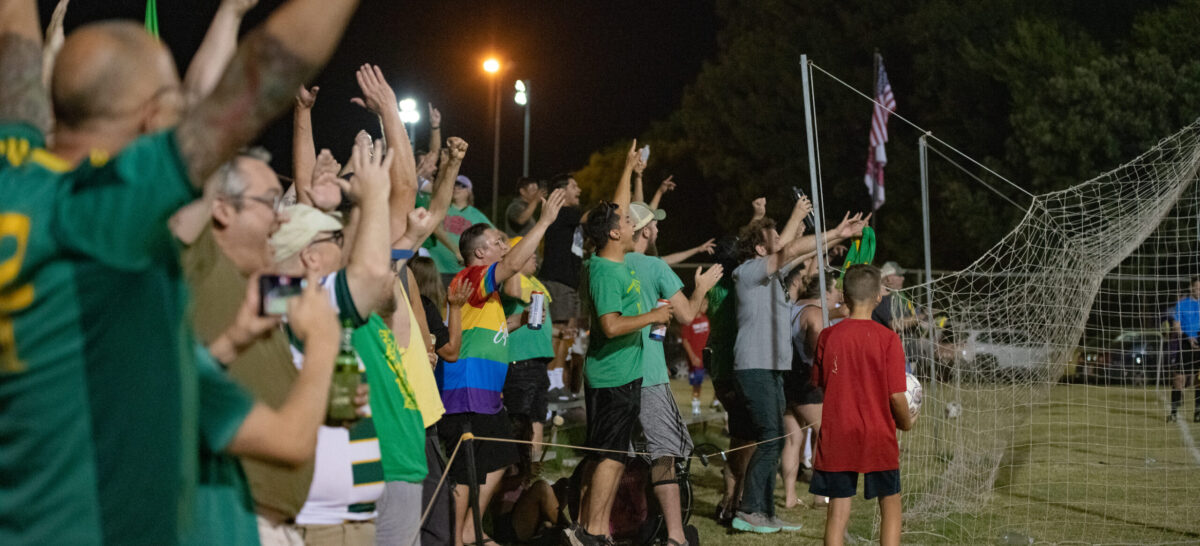 Tulsa Athletic vs OKC 1889 FC
Saturday, July 16 at 7:30 p.m.
Athletic Community Field at Hicks Park | Tulsa
$10 General Admission
Livestream: HERE
TULSA – Tulsa Athletic hosts the Heartland Conference Championship on Saturday (July 16) when the green and yellow take on OKC 1889 FC at 7:30 p.m. at Athletic Community Field at Hicks Park. A live stream will be available for the contest.
Tulsa Athletic advanced to the conference championship via penalties by a margin of 4-2 over Demize NPSL after a 0-0 score after regulation in the Heartland Conference Semifinals on Wednesday. Bryson Reed made a save during the penalty shootout, and Abou Diallo, Rio Mello, Ethan Gordon and Joe Ruiz all scored on their attempts to move on in the playoffs. 
OKC 1889 FC defeated Sunflower State, 4-2, on Wednesday to advance to the Heartland Conference Championship, their first-ever appearance. Teejay Chiororo finished with a brace with two goals for OKC. 
The conference champion appearance is the third straight for the green and yellow as they captured the conference crown in 2021 and 2019. A season ago, Tulsa Athletic defeated Demize NPSL 2-1 in Springfield. During the 2019 season, Tulsa hosted Demize and won 2-0 at Veterans Park. 
For the season, Diallo leads Tulsa Athletic with seven goals. Reed Berry is second with six goals. Juan Moreno adds five goals, and Damani Harris has four goals. 
Tulsa and OKC met twice during the regular season with the green and yellow earning two victories. Tulsa Athletic won 5-1 in the most recent contest on July 6 at Hicks Park. Harris had a hat trick. Moreno and Ruben Carrasco scored second-half goals. In the first meeting this season, the green and yellow won 3-0 in Oklahoma City. Berry tallied all three goals for a hat trick. 
The two clubs were the top two in the regular season standings. Tulsa Athletic went 9-1-2 for 29 points, and OKC finished at 8-2-2 with 26 points. 
The winner of the Heartland Conference Championship moves on to the South Region Semifinals on Wednesday, July 20. If Tulsa Athletic wins, the green and yellow will host the regional semifinals match. 
Hicks Park is located at 3443 S Mingo Ave., Tulsa, OK. 
Tickets for Sunday's contest are only $10 and are available for purchase at the gate. A live stream is available HERE