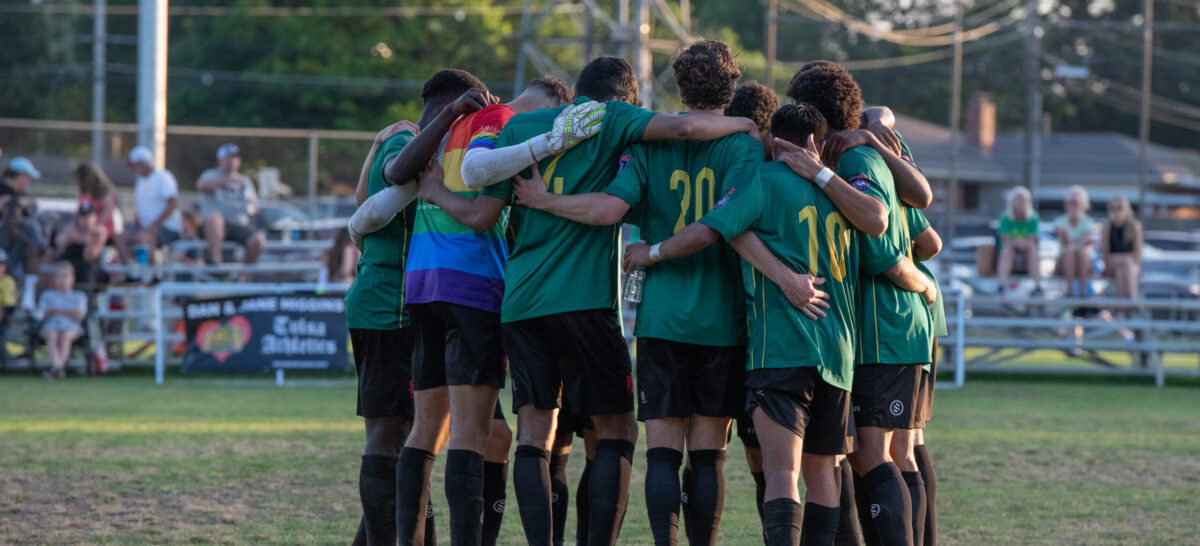 Tulsa Athletic vs OKC 1889 FC
Wednesday, June 8 at 7 p.m.
Athletic Community Field at Hicks Park | Tulsa
$10 General Admission
Livestream: HERE
TULSA – Tulsa Athletic ends a two-match home stretch by hosting OKC 1889 FC on Wednesday (June 8) night at 7 p.m. at Athletic Community Field at Hicks Park. Tickets are only $10 at the gate and a live video stream will be available. 
Tulsa Athletic opened the home stand with a 0-0 draw against Sunflower State on Saturday (June 4) in the first home match under the lights at Hicks Park. The green and yellow had some opportunities, but hit the post and the crossbar along with a few other chances that went wide. Bryson Reed earned the shutout in goal. 
Tulsa and OKC met earlier this season in Oklahoma City with the green and yellow earning a 3-0 victory as Reed Berry had a hat trick with three goals in a span of 12 minutes. Berry tallied the first goal right before halftime and added two early second-half goals to help Tulsa pull away. Reed and Brady Moody combined for a shutout in goal. 
Berry currently leads Tulsa Athletic with five goals this season, ranking first in the South Region. Abou Diallo adds four goals. Joe Ruiz, Vini Oliveira, Juan Sanchez, Gustavo Vargas, Juan Moreno, Romulo Bosqueiro, Damani Harris, Ruben Torres and Aaron Ugbah each have one goal this season. The duo of Bryson Reed and Brady Moody in goal has allowed only 0.57 goals per match with three shutouts. 
For the season, Tulsa Athletic holds a 5-0-2 record with 17 points to lead the Heartland Conference. OKC 1889 ranks second in the conference with 13 points and a 4-1-1 record. 
OKC 1889 FC's offense is led by Teejay Chiororo with a team-high five goals. 
Wednesday's match is the fifth meeting between the two clubs in NPSL action with Tulsa holding a 2-1-1 edge all-time. In the 2021 season, OKC 1889 won at Veterans Park and Tulsa was victorious in Oklahoma City. The two clubs played to a draw in the Heartland Conference playoffs in Tulsa with Tulsa advancing to the conference finals on penalty kicks. 
Hicks Park is located at 3443 S Mingo Ave., Tulsa, OK. 
Tickets for Wednesday's contest are only $10 and are available for purchase at the gate. A live stream is available HERE