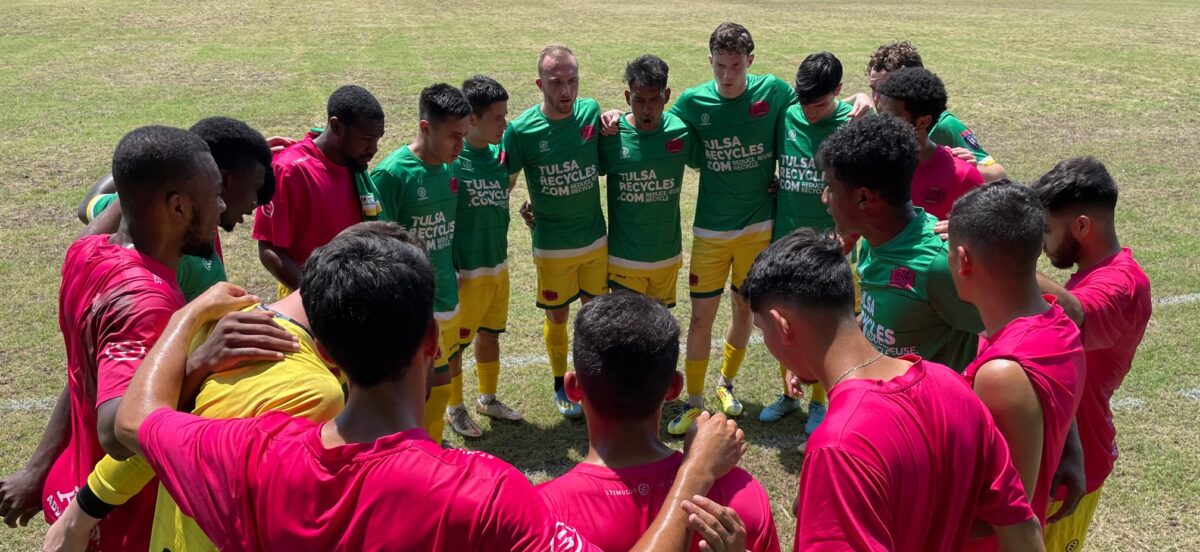 Tulsa Athletic at Demize NPSL
Thursday, May 19 at 7:30 p.m.
Drury University – Harrison Stadium | Springfield, Missouri
$10 General Admission
Livestream: HERE
SPRINGFIELD, Mo. – Tulsa Athletic goes on the road for a rare Thursday night contest as the green and yellow play at Demize NPSL on Thursday (May 19) at 7:30 p.m. at Harrison Stadium on the campus of Drury University. 
The contest is a rematch of the 2021 Heartland Conference Championship match in Springfield where Tulsa Athletic won, 2-1. During the regular season in 2021, the two clubs drew both times in the two meetings. 
In their home opener and first-ever match at Athletic Community Field at Hicks Park, Tulsa Athletic earned a 2-1 victory over Club Atletico Saint Louis on Sunday. Captain Joe Garcia tallied the first goal with the assist to Reed Berry. Berry scored the match winner, his first goal in the green and yellow, right before halftime to make it 2-0. CASL got one goal back in the second half, but the green and yellow held on for the 2-1 win. 
Tulsa Athletic is currently first in the Heartland Conference standings with six points after two contests. The green and yellow are tied with newcomer Sunflower State for first as both teams are 2-0-0 early in the season. 
Thursday night's match is the season opener for Demize NPSL. In the 2021 season, Demize went unbeaten in the regular season, going 7-0-3 to win the Heartland Conference regular season crown. 
Before the start of the NPSL season, Tulsa Athletic went 1-1 in the US Open Cup with a 3-0 victory against Azteca FC (Colo.) in the first round. In the second round of the US Open Cup, the green and yellow fell, 2-1, at FC Tulsa in the first-ever Tulsa Derby. 
After four matches, Garcia leads the team with four goals across all competition. The midfielder posted a team-high 10 goals in the 2021 season, including two goals in the NPSL National Championship contest. Garcia is one of many returners from the 2021 national runner-up team. Aaron Ugbah, Ruben Torres, Gustavo Vargas, Ruben Moreno, Romulo Bosqueiro and Berry each add one goal this season.  
The 2021 Tulsa Athletic team captured their second straight Heartland Conference Champion, first-ever South Region Championship and advanced to the NPSL Championship Match. 
Tulsa Athletic returns home Sunday for a 2 p.m. match against Arkansas Wolves at Athletic Community Field at Hicks Park. Tickets are $10.
For more information on Tulsa Athletic, visit tulsaathletic.com.