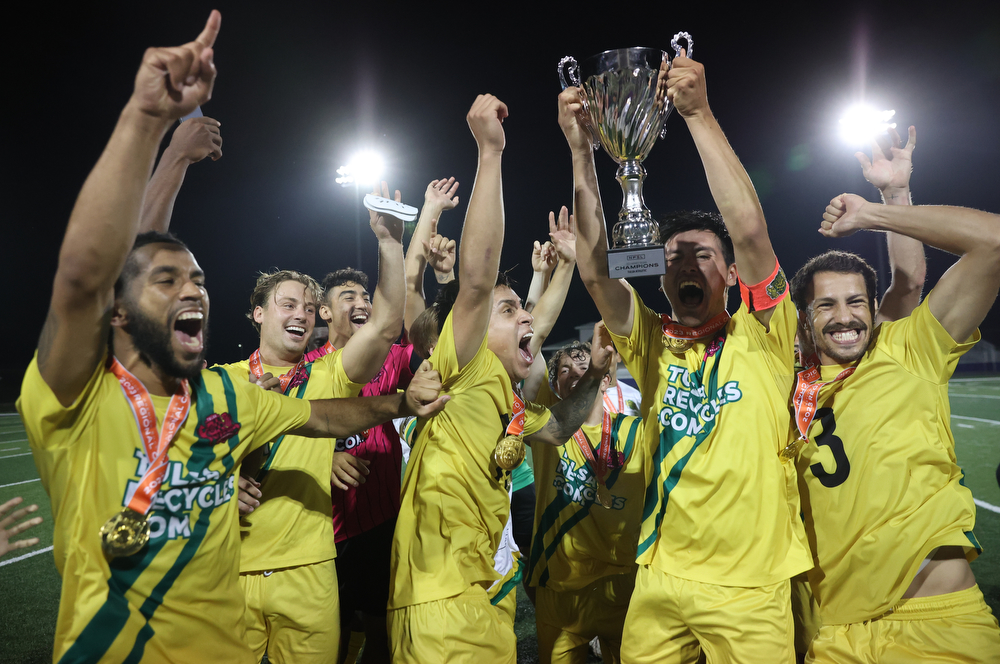 INDIANOLA, Iowa – Aaron Ugbah scored four minutes into the second overtime of the Midwest Region Finals to propel Tulsa Athletic to a 2-1 win over Steel City (Pa.) FC as the green and yellow captured their three straight regional championship on Saturday (July 22) at Indianola Football Field. 
Ugbah tallied the game-winning goal in the 109th minute of action when he took on four defenders and hit a strike from 20 yards away to the far post to put Tulsa Athletic up 2-1 late in the game. 
Tulsa Athletic's defense closed it out in the final 10 minutes as the green and yellow won the Midwest Region Championship. 
Tulsa Athletic gained an early 1-0 lead in the game as Abou Diallo scored with his right foot in the left side of the box after a ball from Luis Flores. The green and yellow went up 1-0 in the 27th minute of the Diallo goal with the assist going to Flores. 
Diallo was crafty in the first half and had two other opportunities at goal, but his attempts were saved or blocked to keep it 1-0 after the first 45 minutes of action. 
The green and yellow continued to pressure in the second half. Ugbah had a shot blocked and the rebound cleared in the 65th minute. 
In the 72nd minute, captain Joe Ruiz hit the bottom of the crossbar, but somehow his shot didn't go in to keep it 1-0. 
Late in regulation, Steel City FC equalized with a goal in the 84th minute after putting away a ball that the Tulsa defense couldn't clear. 
Tulsa Athletic had two goals called off due to being offside. Ugbah hit the goal, but he was offside in the 78th minute of action, and eight minutes into the first overtime period, Tulsa scored in front, but was called offside. 
With the win, Tulsa Athletic captured their third straight regional championship. The green and yellow won their first South Region Championship in 2021 with a 2-1 win over Southern State Stars in Tulsa, and the second South Region Championship came in 2022 with a 2-0 win at Jacksonville Armada in Jacksonville, Florida. The 2023 is the first season Tulsa Athletic has played in the Midwest Region. 
The win advances Tulsa Athletic to the NPSL Semifinals for the third straight season, and the second straight home semifinal. 
Tulsa Athletic returns home for the NPSL Semifinals on Saturday (July 29) against Crossfire Redmond at 7:30 p.m. A live video stream will be available. The winner advances to the NPSL Championship on August 5.