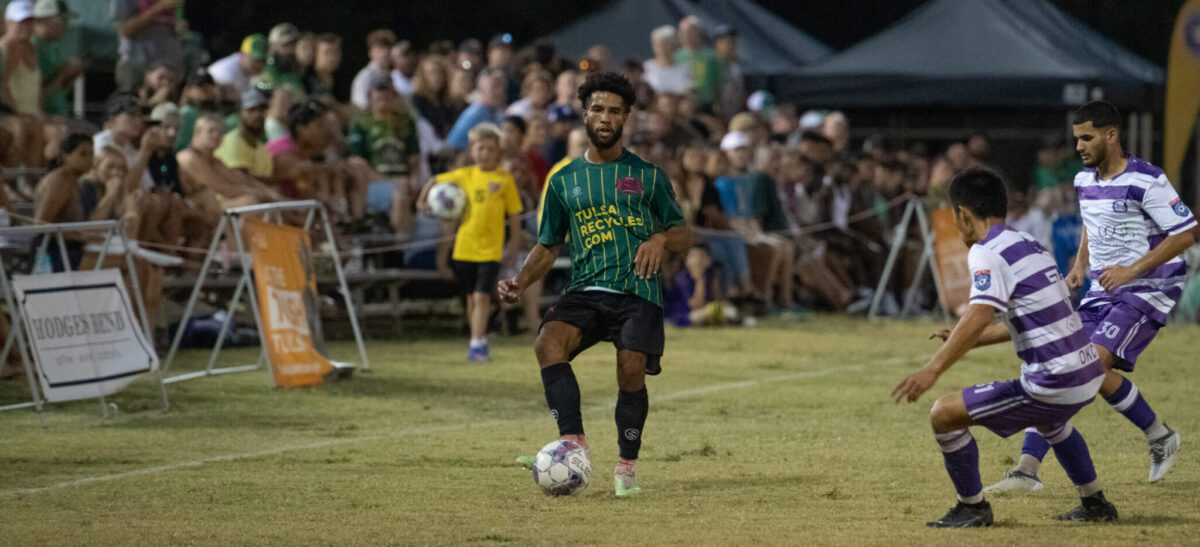 TULSA – KB Harris scored three first-half goals for a hat trick as Tulsa Athletic cruised to a 6-1 victory over old NPSL rival Little Rock Rangers on Sunday (Sept. 24) at Athletic Community Field at Hicks Park. 
After a goal on a penalty in the 12th minute from captain Joe Ruiz, Harris tallied three straight goals in the first half to give the green and yellow a commanding 4-0 advantage after the first half. Tulsa Athletic added two more goals in the second half before a late goal from the visitors made it 6-1. 
Aaron Ugbah put in a cross in the 12th minute that saw Ruben Torres taken down in the box and Tulsa Athletic was given a penalty. Ruiz put in his penalty to the left side of the goal for the 1-0 edge. 
Harris got his first goal in the 18th minute with a shot to the upper right corner of the goal after a pass from Thomas Burlay for a 2-0 score. 
Harris hit a strike in the 27th minute for his second goal of the game as a loose ball in the box found Harris to put Tulsa Athletic up 3-0 in the early going of the contest. 
A diving header in the 42nd minute by Harris gave him his hat trick and upped the Tulsa Athletic lead to 4-0. Alejandro Chavez sent the cross in that found the head of Harris. 
Jake Lario scored in the 74th minute to increase the score to 5-0. Matt Cuellar tallied the final goal in the 76th minute to make it 6-0. 
Little Rock Rangers scored in the 80th minute for the 6-1 final score. 
Tulsa Athletic plays host to Ryogoku Academy on Sunday (Oct. 1) at 2 p.m. at Athletic Community Field at Hicks Park. Tickets are $12 and a live video stream will be available.