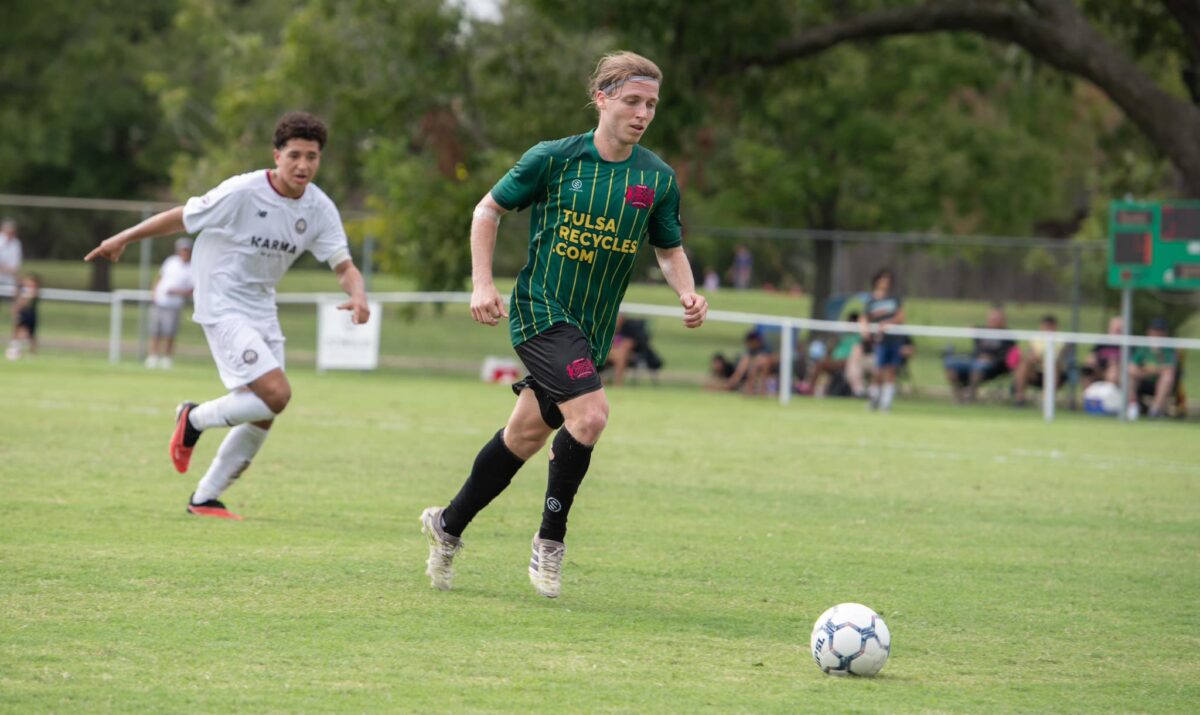 TULSA – KB Harris tallied four goals as Tulsa Athletic won 6-3 over Side FC 92 on Wednesday (Oct. 25) at Athletic Community Field at Hicks Park in a rainy contest. 
With the win, Tulsa Athletic pulled into first place alone in the conference with 19 points and a 6-1-1 record. The green and yellow are on a six-game winning streak and are 4-0 at Athletic Community Field at Hicks Park. 
KB Harris now has 16 goals on the season in only eight games. In four contests at Hicks Park, Harris has 12 goals. Along with his four goals in this game, Harris totaled two hat tricks and a brace at Hicks Park in the UPSL season. 
Abou Dialo opened the scoring for Tulsa Athletic in the third minute with a goal to put the home side up 1-0. 
Harris hit a strike to get his first goal and make it 2-0 in the seventh minute of action. 
Side FC 92 pulled back to within one with a goal in the ninth minute for a 2-1 score. 
Harris added back-to-back goals for a first-half hat trick. A free kick from just outside the box hit right into the wall and bounced to Harris and he slotted it home for a 3-1 score in the 21st minute. 
After Aaron Ugbah was taken down in the box, Harris took the penalty. His attempt was saved, however, he knocked in the rebound to make it 4-1 in the 40th minute. 
Tulsa Athletic held the 4-1 advantage at halftime. 
Side FC 92 was awarded a penalty in the 55th minute after Tulsa Athletic goalkeeper Christian McCauley committed a foul. Side FC 92 converted to make it a 4-2 margin. 
In the 60th minute, Ruben Torres scored his first goal of the season to up the lead to 5-2. 
Side FC 92 scored on another penalty in the 80th minute for a 5-3 score. 
Harris finished the game with his fourth goal in the 85th minute on a header to increase the edge to 6-3. 
Tulsa Athletic squares off with Sporting Kansas City Academy in the biggest game of the season so far on Sunday, Nov. 4 at 2 p.m. at Athletic Community Field at Hicks Park. Tickets are available online and a live video stream will be available.