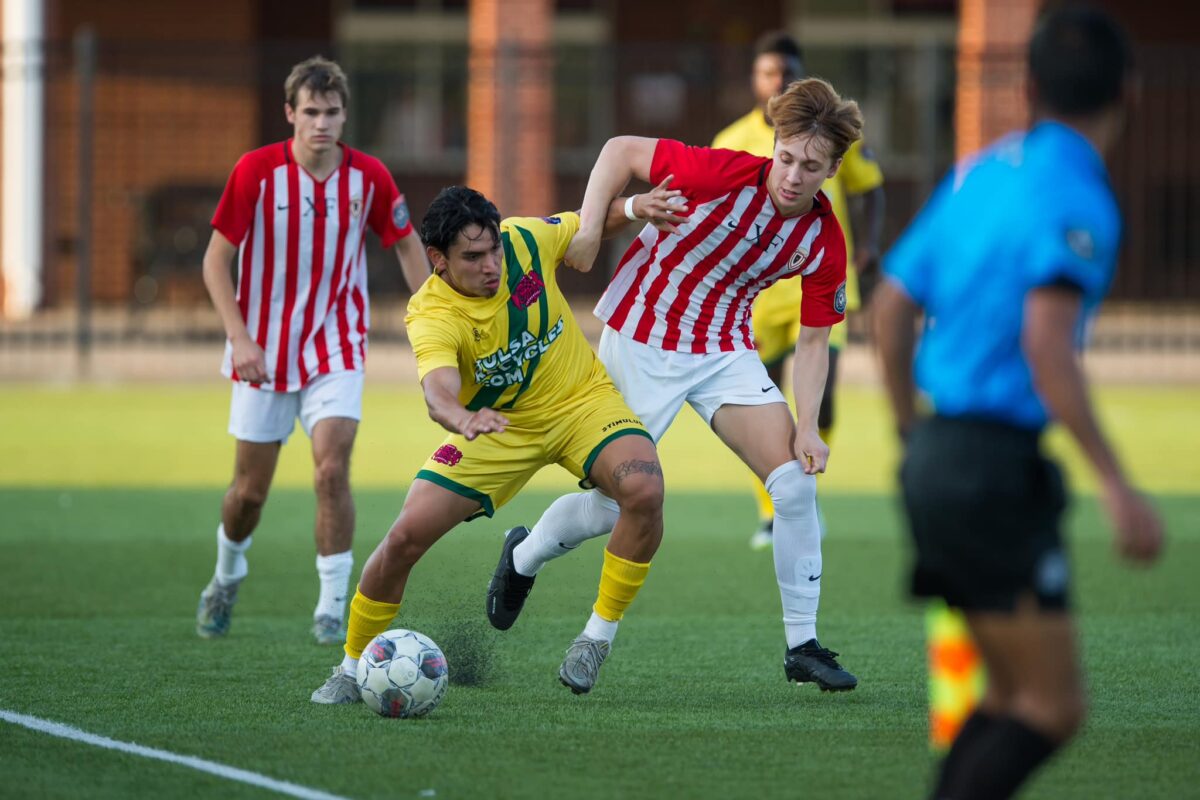 CLAREMORE – Tulsa Athletic advanced to the NPSL National Championship with a 4-0 win over Crossfire Redmond in the semifinals on Saturday (July 29) at Soldier Field on the campus of Rogers State University. 
Striker Luis Flores finished with a hat trick with three goals and captain Vini Oliveira added a goal on a penalty for the 4-0 victory as the green and yellow clinched a spot in the national championship for the second time in the last three seasons. 
Flores put Tulsa Athletic up 1-0 in the 39th minute with a strike from 20 yards to the right corner of the goal for an early advantage. Roman Torres got the assist on the goal. 
Late in the first half, Abou Diallo was taken down in the box, drawing a red card and a penalty. Michael Gallagher for Crossfire was sent off as Crossfire was down to 10. 
The captain Oliveira stepped to the spot and scored to the right for a 2-0 advantage for Tulsa Athletic. The goal was Oliveira's first goal of the season. 
Flores added his second goal in the 53rd minute with a shot from 15 yards in the box to increase the lead to 3-0 early in the second half. 
Flores got the hat trick in the 75th minute with a strike in the box to make it 4-0 late in the contest. With the three goals, Flores has 10 on the season, including eight goals in the playoffs. 
The Tulsa Athletic defense finished with their sixth shutout of the season and second in the playoffs. Bryson Reed started and went the first 89 minutes in goal. Ryder Claborn finished the game in goal and the two combined for the shutout victory. The backline of Vitor Antelo, Joe Ruiz, Chris Taylor and Joe Quashie helped in the shutout. 
The green and yellow advance to the NPSL National Champion for the second time in three years. Tulsa Athletic played Denton Diablo in the 2021 National Championship in Denton. This is the first time in the 10-year history of Tulsa Athletic that the club will host the NPSL National Championship. 
Tulsa Athletic hosts Apotheos FC on Saturday, Aug. 5 at 7:30 p.m. More information will become available soon.