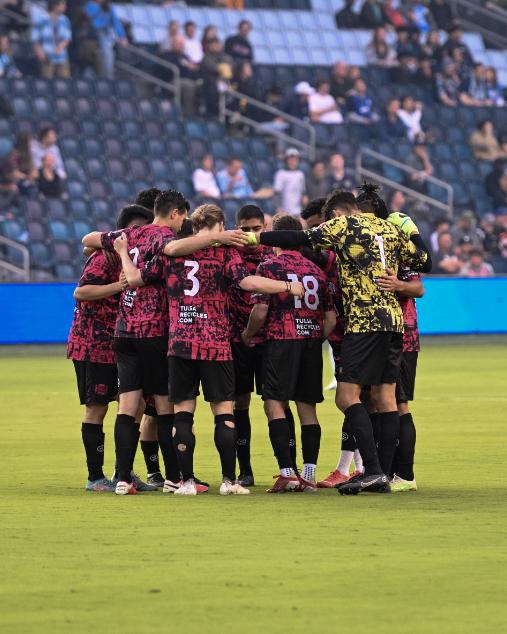 KANSAS CITY, Kan. – Tulsa Athletic's magical US Open Cup run came to an end with a 3-0 loss at MLS side Sporting Kansas City on Tuesday (April 25) at Children's Mercy Park. 
Sporting Kansas City scored once in the first half and added two more tallies in the second half for the 3-0 score, advancing to the round of 32 in the US Open Cup. 
Tulsa Athletic's run in the US Open Cup ends after starting 2-0 with victories over US Championship side and in-city rival FC Tulsa in the second round and a first round win over Brazos Valley Calvary (Texas) FC. 
Tulsa Athletic had the first opportunity of the contest after forward Jordan Watson was taken down in the box, earning the green and yellow a penalty. Defender Chris Taylor took the shot from the spot, but his attempt was saved by Sporting KC's goalkeeper to keep it 0-0 in the 16th minute. 
Sporting KC took the 1-0 edge in the 32nd minute when Daniel Salloi scored on a shot to the near post. It was 1-0 to the home side after 45 minutes. 
In the second half, SKC's Alan Pulido made it 2-0 in the 54th minute. Marinos Tzionis added the final goal for the 3-0 score in the 68th minute. 
The three goals were the first goals allowed by the Tulsa Athletic defense during the open cup. Tulsa totaled two shutouts in the wins over FC Tulsa and Brazos. 
Goalkeeper Bryson Reed finished with six saves. 
Tulsa Athletic begins the 2023 NPSL season on May 6 against Reign FK at 7:30 p.m. at home in Tulsa.