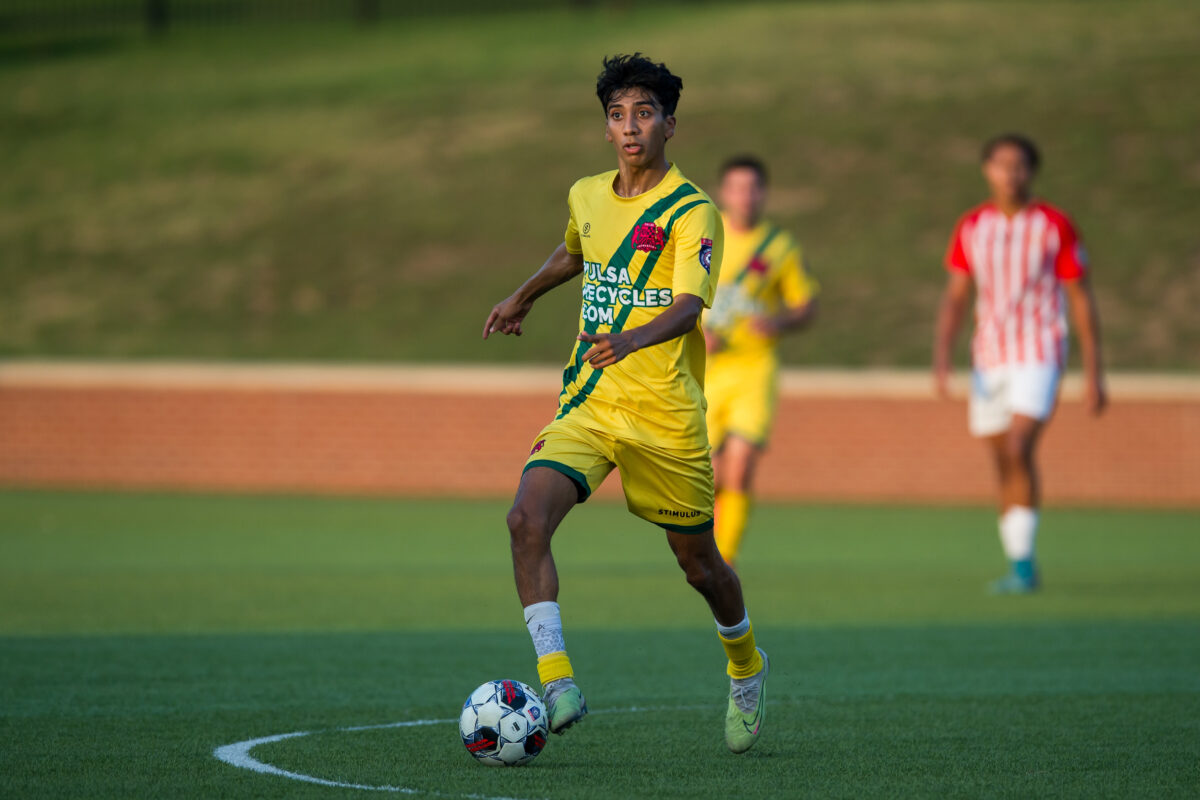 CLAREMORE – Tulsa Athletic hosts the 2023 NPSL National Champion this Saturday (Aug. 5) as the green and yellow takes on South Region Champion Apotheos FC at 7:30 p.m. at Soldier Field on the campus of Rogers State University. 
Tickets are $12 and can be purchased here or at the gate. A live video stream will be available as well. 
Tulsa Athletic cruised to a 4-0 victory over Crossfire Redmond in the NPSL National Semifinals on Saturday, July 29 to earn their spot in the national championship. Luis Flores finished with a hat trick with three goals, and captain Vini Oliveira added a goal on a penalty. Bryson Reed earned the shutout win in goal with six saves before being replaced in the final minutes by Ryder Claborn. 
The green and yellow won the Midwest Region Championship with victories over Des Moines United, 4-3, and Steel City, 2-1, in Iowa. Tulsa Athletic started their playoff run by capturing the Heartland Conference with wins over Demize NPSL, 2-0, and over OKC 1889 FC, 2-1. Including the end of the regular season, Tulsa Athletic is currently on a nine-game winning streak. 
Flores and Abou Diallo currently pace the club with 10 goals each this season. Eight of the 10 goals for Flores have occurred in the playoffs, including the three in the semifinals. Aaron Ugbah, who scored the game-winning goal in the Midwest Region Finals, adds six goals. 
Apotheos FC, from Kennesaw, Georgia, won 3-1 in overtime over host West Chester United in the NPSL National Semifinals. Apotheos won the South Region Championship by defeating host Naples United in the semifinals before winning over Southern States SC in the South Region Finals. Apotheos started the postseason by winning the Southeast Conference. 
Anthony Sumo Jr. leads Apotheos with seven goals on the season. Junior Sandoval adds six goals, and Lamin Jawneh has five goals. Apotheos joined the NPSL in the 2022 season. 
Tulsa Athletic is making their second appearance in the NPSL National Championship in club history with it being the first time hosting the championship. The green and yellow played at Denton Diablo in the 2021 NPSL National Championship in Denton, Texas. The home side won in that contest. A season ago, Tulsa Athletic advanced to the NPSL National Semifinals before falling to 2022 NPSL National Champion FC Motown. 
Tulsa Athletic has won three straight regional championships and four straight Heartland Conference Championships.