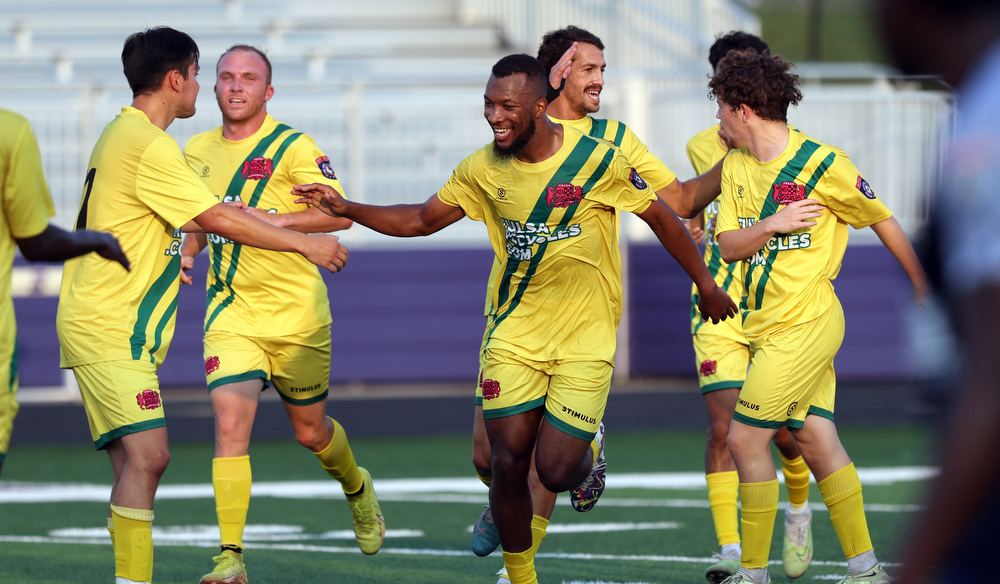 CLAREMORE – Tulsa Athletic is set to host Crossfire Redmond (Wash.) in the 2023 NPSL Semifinals on Saturday (July 29) at 7:30 p.m. at Soldier Field on the campus of Rogers State University. 
Tickets for the game are only $12 and can be purchased online here. A live video stream will also be available for the contest. 
Tulsa Athletic advanced to their third straight NPSL Semifinals after defeating Steel City (Pa.) FC in the Midwest Region Finals on Saturday (July 22) by a 2-1 score in overtime. Aaron Ugbah tallied the late game-winning goal in the second overtime period to give the green and yellow the win in Iowa. Tulsa Athletic won 4-3 over host Des Moines United FC in the Midwest Region Semifinals on July 21. 
The green and yellow started their playoff run with two wins in the Heartland Conference Playoffs. Tulsa Athletic defeated Demize NPSL 2-0 in the Heartland Conference Semifinals and then won 2-1 over OKC 1889 FC to capture the Heartland Conference Championship. 
During the playoffs, Luis Flores leads the team with five goals after four games. 
Saturday is the second straight season Tulsa Athletic has hosted in the NPSL Semifinals. The green and yellow hosted FC Motown in 2022. In the 2021 season, Tulsa Athletic played at FC Baltimore in the NPSL Semifinals with the green and yellow winning 1-0. 
Crossfire Redmond, the 2022 NPSL runner-up, advanced to the 2023 NPSL Semifinals after defeating El Farolito, 3-2, in the West Region Finals. Crossfire went 7-2-1 during the regular season in the Northwest Conference. During the playoffs, Crossfire won 2-1 over FC Arizona in the West Region Semifinals before getting the victory over El Farolito in the finals. 
In the other NPSL Semifinal matchup, West Chester United hosts Apotheos FC on Saturday in West Chester, Pa. 
The winners of the two semifinals games advance to the NPSL Championship set for Saturday, Aug. 5 at the highest remaining seed.