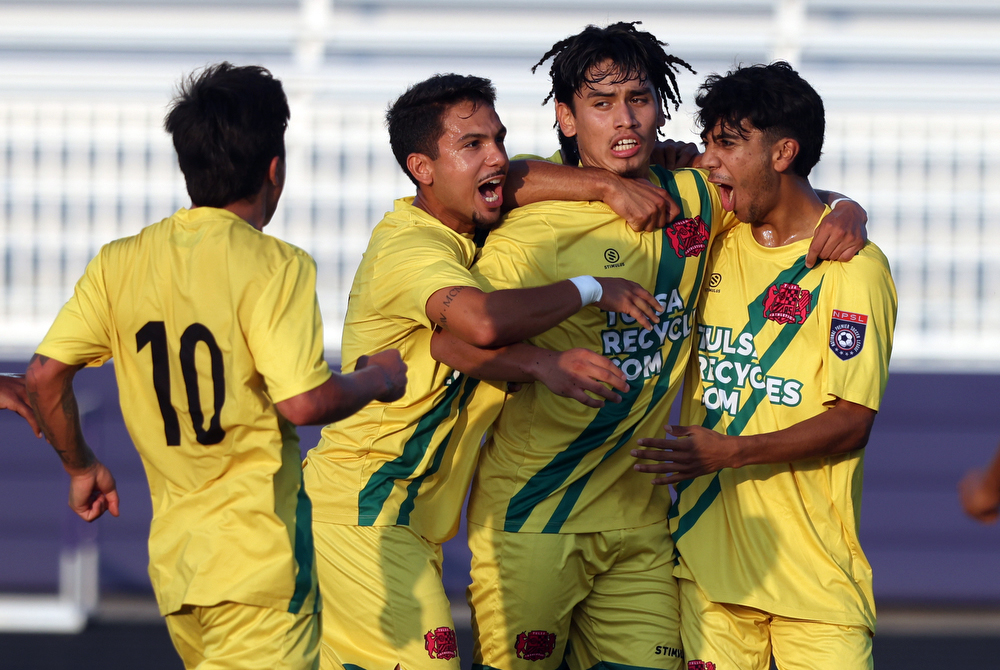 INDIANOLA, Iowa – Tulsa Athletic raced out to a 4-0 advantage and held on for a 4-3 victory over host Des Moines United FC on Friday (July 21) to advance to the Midwest Region Finals. 
Four Tulsa Athletic players tallied goals as the green and yellow built a commanding lead in the first 57 minutes. Des Moines tallied three goals in a span of six minutes to cut the score to 4-3 with 14 minutes remaining, but Tulsa Athletic held on for the win. 
The green and yellow built a 2-0 lead after the first 45 minutes of action. In the 14th minute, Luis Flores hit a strike on a free kick that found the back of the net for a 1-0 margin early in the contest. The goal was Flores's fifth goal of the playoffs. 
Aaron Ugbah increased the edge to 2-0 in the 38th minute with his first goal of the playoffs. 
After 45 minutes, the visiting side had a 2-0 lead after controlling play throughout. 
Early in the second half, Tulsa Athletic continued to control the game. The green and yellow added two second half goals in about two minutes of action. 
Abou Diallo made it 3-0 with his goal in the 55th minute of action. And Rio Mello scored with a strike from his left foot from 15 yards out to make it 4-0 in the 57th minute. 
Des Moines made it interesting with goals in the 70th minute, 75th minute and 76th minute for a 4-3 margin. 
After holding momentum for that stretch of play, Tulsa Athletic settled down late and shut down any opportunities for the home side for the 4-3 victory. 
With the win, Tulsa Athletic plays Steel City FC on Saturday at 7 p.m. at Indianola Football Field in Indianola, Iowa. The game will be streamed on Eleven Sports. 
The official watch party in Tulsa will be at Heirloom Rustic Ales at 7 p.m. All ages are welcome and outside food is allowed. 
Tulsa Athletic makes their fourth straight appearance in the regional finals and first appearance in the Midwest Region Finals. The three previous times making the regional finals occurred in the South Region. This is Tulsa Athletic's first season in the Midwest Region. 
The green and yellow captured the regional championship in back-to-back seasons in 2021 and 2022. This is Tulsa Athletic's fifth regional final in the 10 seasons in club history.