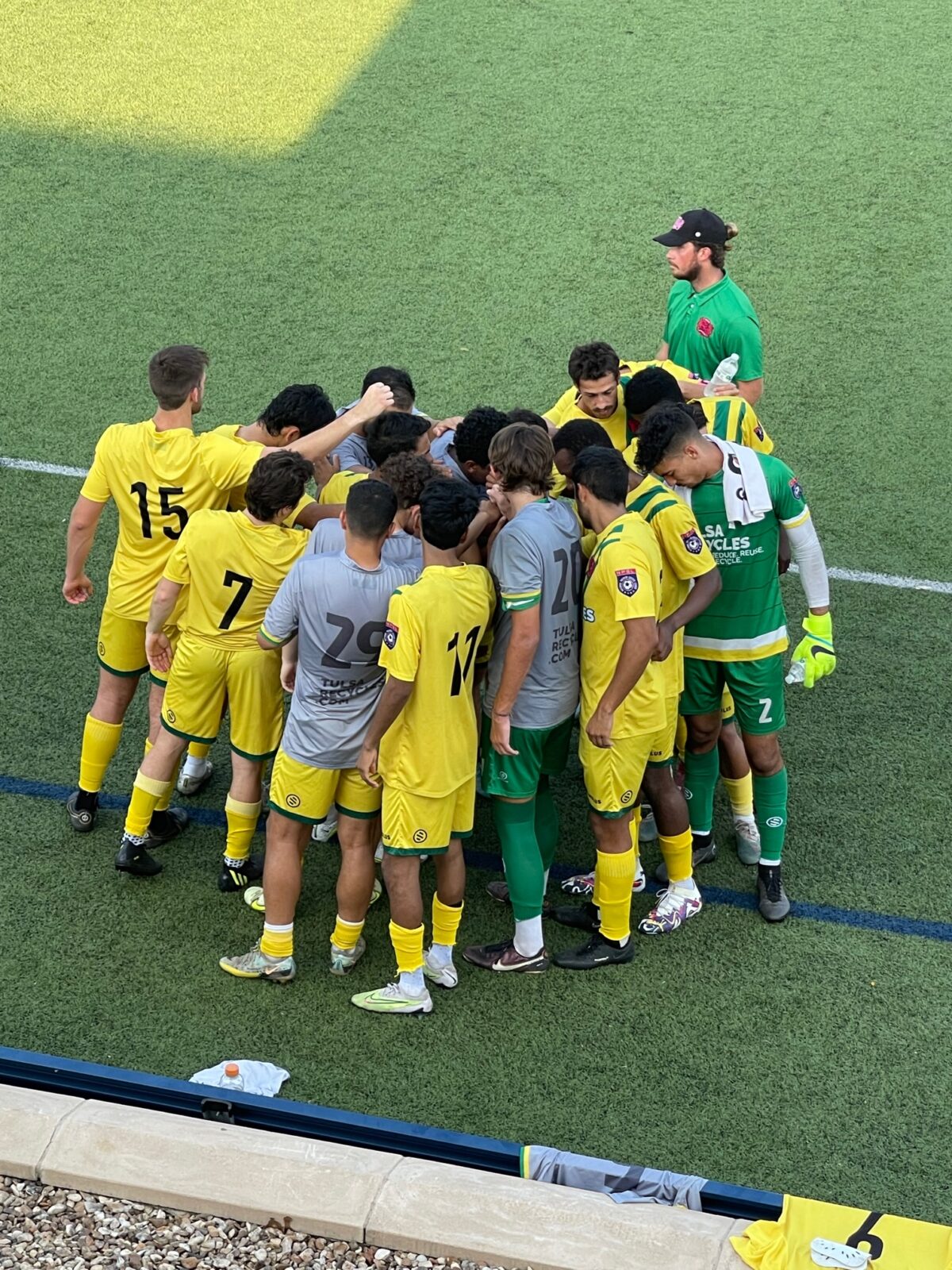 CLAREMORE – Tulsa Athletic won 2-1 over OKC 1889 FC to capture their fourth straight Heartland Conference Championship on Saturday (July 15) at Soldier Field on the campus of Rogers State University. Luis Flores finished with a brace, scoring both goals, his second straight game with two tallies, to lift the green and yellow to the victory. 
Tulsa Athletic's run of dominance in the Heartland Conference started in 2019 with their first Heartland champion and the green and yellow added conference championships in 2021, 2022 and this 2023 season. The 2020 season was canceled. Along with two South Central Conference championships in 2013 and 2014, Tulsa Athletic totals six NPSL conference championships in their 10 season history in the league. 
After a scoreless first half, Flores put Tulsa Athletic up 1-0 in the 48th minute when he got a touch near post on a free kick from Rio Mello from the sideline. Mello picked up the assist on the driving free kick. 
The lead didn't last long as OKC pulled even in the 50th minute with a goal. 
The game-winning goal occurred in the 74th minute when Flores added his second goal. After Abou Diallo was taken down on a foul, he restarted quickly to Joel Quashie, who sent a cross into the box that Flores hit into the back of the goal for the 2-1 edge. 
OKC looked like they might have tied the score at 2-2 late, but they were called offside in the 86th minute. 
Bryson Reed started in goal and went the full 90 minutes, allowing one goal. The defense back line of Alejandro Chavez, Ethan Gordan, Joe Ruiz and Vitor Turnes limited the opportunities for the visiting side. 
With the win, Tulsa Athletic went 2-1 against OKC 1889 FC this season. After a 1-0 loss at OKC, the green and yellow defeated the Imps 2-1 in Claremore in the regular season. 
Tulsa Athletic plays Des Moines United FC on Friday (July 21) in the Midwest Region Semifinals. Location and time has yet to be announced. The other Midwest Region Semifinal game is between Steel City and Med City. 
For more information on Tulsa Athletic, go to tulsaathletic.com.