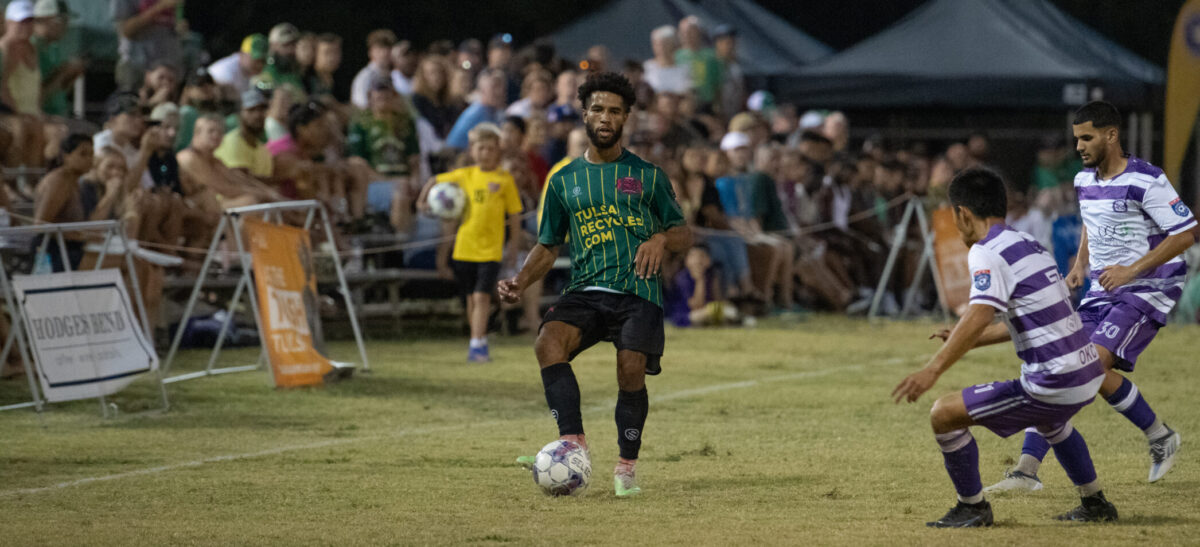 Tulsa Athletic vs Laredo Heat
Wednesday, July 20 at 7:30 p.m.
Athletic Community Field at Hicks Park | Tulsa
$10 General Admission
Livestream: HERE
TULSA – Heartland Conference Champion Tulsa Athletic welcomes Lone Star Conference Champion Laredo Heat to Athletic Community Field at Hicks Park on Wednesday (July 20) in the South Region Semifinals. Kickoff is set for 7:30 p.m. with tickets only $10, A live video stream will also be available. 
Tulsa Athletic captured its third straight Heartland Conference Championship on Saturday with a 5-1 victory over OKC 1889 FC in the conference finals. The green and yellow totaled three goals in the first 21 minutes to cruise to the win. Aaron Ugbah, Reed Berry, Juan Moreno, Abou Diallo and Ruben Carrasco tallied goals in the victory. 
The green and yellow won the Heartland Conference crown in 2019 and 2021 to make it three straight conference titles. Tulsa Athletic also won the South Central Conference in 2013 and 2014. 
Tulsa Athletic is currently on a sixth-match winning streak on the season. For the season, Diallo leads Tulsa Athletic with eight goals. Berry is second with seven goals. Moreno adds six goals. 
Laredo Heat comes to Tulsa after winning the Lone Star Conference Championship on Saturday with a 3-0 win over Corinthians FC of San Antonio in Laredo, Texas. Kristian Horbunov, Roberto Ordonez and Jose Rivera scored goals for Laredo in the conference championship. 
During the regular season, Laredo Heat went 8-1-3 in the Lone Star Conference to win the conference shield. Horbunov leads the team in goals with eight on the season.
The winner of the South Region Semifinals advances to the South Region Championship on Saturday, July 23 at the highest remaining seed. In the other South Region Semifinal, Jacksonville Armada U23 hosts Naples United FC. 
Hicks Park is located at 3443 S Mingo Ave., Tulsa, OK. 
Tickets for Sunday's contest are only $10 and are available for purchase at the gate. A live stream is available HERE