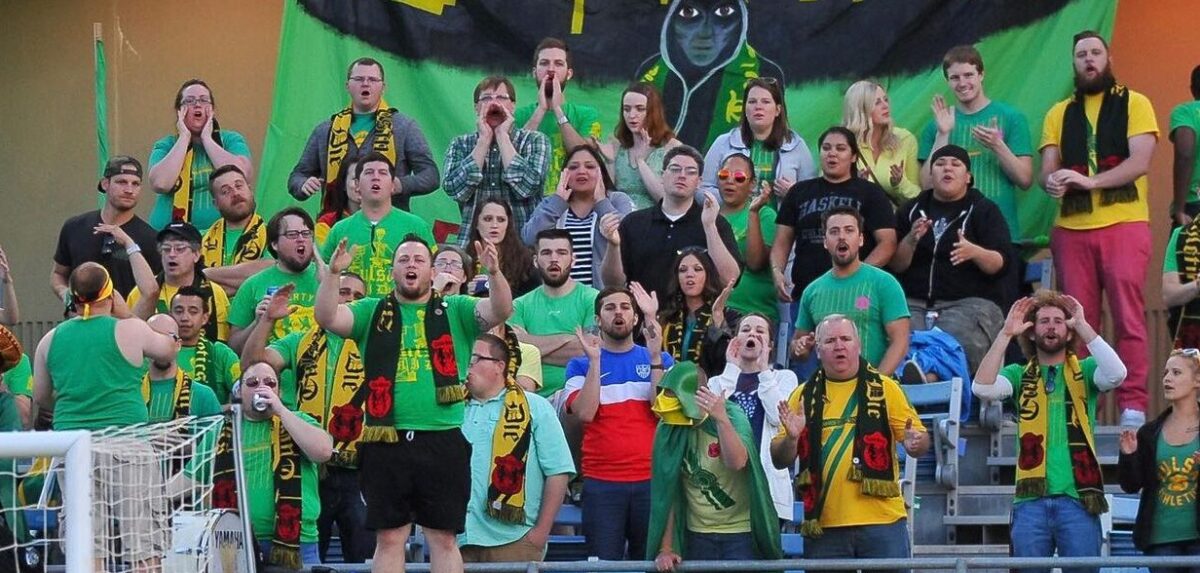 Tickets for Tulsa Athletic's US Open Cup Second Round match at FC Tulsa are now available online. Tulsa Athletic visits ONEOK Field on April 5 at 7:30 p.m. to take on host FC Tulsa in the first-ever Tulsa Derby. 
A special ticket offer was emailed to all Tulsa Athletic season ticket holders and supporters.
As the visiting team, Tulsa Athletic has two designated visitor sections at ONEOK Field for the match. The supporter section for our rowdiest fans, including members of The Armory, will be located in the lawn section behind the Tulsa Athletic bench (located in left centerfield of ONEOK Field) Buy your lawn tickets HERE. 
Bleacher seats for Tulsa Athletic supporters are in section 107. Buy your tickets in section 107 HERE. 
Help make ONEOK Field Green Country by wearing your best green Tulsa Athletic gear to the Tulsa derby. Tulsa soccer is green and yellow.
The Tulsa Derby starts at 7:30 p.m. Gates to ONEOK Field open at 6:30 p.m. 
No lawn chairs, wagons, or umbrellas are allowed inside ONEOK Field. Smoke is not allowed into the stadium. Signs cannot be hung up on the railing in the stadium. Flags, drums or other musical instruments must be approved by FC Tulsa and will require a special entrance process. 
Season tickets for Tulsa Athletic's NPSL season are now on sale. Tulsa Athletic has six home matches scheduled for the 2022 season at our new home, Athletic Community Field at Hicks Park. Buy your tickets today for only $25. 
Follow Tulsa Athletic on Facebook, Twitter, Instagram, Youtube and TikTok. 
Subscribe to our newsletter to hear all the latest news from Tulsa Athletic.